Pressure Washing your Kingsport, TN home can be a costly and timely process if you don't have the right equipment or knowledge. We have been pressure washing homes since 1998. We have washed Thousands of homes, as well as many commercial buildings. 

    There's a right way to do things and a wrong way. Not everyone who owns a pressure washer, is a Pressure Washer. Too much pressure can damage siding, decking, roofing, and concrete. Let us put our 15 years experience to work on your home or building, giving you the peace of mind that your property has been cleaned and protected properly.  

    We clean all types of properties in Johnson City, TN . From Residential homes to Commercial buildings. All types of siding. New construction brick, to soft wash residential home cleaning for mold and mildew removal. We offer annual and monthly cleaning specials. 

​    Wash TN is a fully insured and licensed pressure washing service company, holding a $1 Million dollar general liability insurance policy. In Kingsport, Johnson City, Bristol and Surrounding Cities in East Tennessee we are the first choice for commercial pressure washing, facility maintenance, and residential exterior cleaning services. Our power washing company can handle any size job, whether it be big or small. Through our state of the art equipment, we are able to utilize steaming hot water and high pressure to get rid of any dirt and debris from your Kingsport, Johnson City, Bristol and Surrounding Cities in East Tennessee property. 

Call us at our office today for a free Quote   423-600-WASH (9274)

Tennessee - Bloomingdale TN, Blountville TN, Bluff City TN, Bristol TN, Bulls Gap TN, Chuckey TN, Church Hill TN, Colonial Heights TN, Dandridge TN, Elizabethton TN, Erwin TN, Fall Branch TN, Flag Pond TN, Gatlinburg TN, Gray TN, Greeneville TN, Hampton TN, Johnson City TN, Jonesborough TN, Kingsport TN, Knoxville TN, Kodak TN, Limestone TN, Lynn Garden TN, Mooresburg TN, Morristown TN, Mountain City TN, Pigeon Forge TN, Piney Flats TN, Roan Mountain TN, Rogersville TN, Sevierville TN, Surgoinsville TN, Telford TN, Unicoi TN

37660, 37617, 37618, 37620, 37621, 37625, 37711, 37641, 37642, 37645, 37663, 37725, 37643, 37644, 37650, 37656, 37657, 37738, 37615, 37743, 37745, 37658, 37601, 37602, 37604, 37605, 37614, 37659, 37660, 37662, 37901, 37902, 37909, 37912, 37914, 37924, 37927, 37933, 37938, 37940, 37950, 37764, 37681, 37665, 37811, 37813, 37816, 37683, 37862, 37864, 37868, 37876, 37686, 37687, 37857, 37862, 37864, 37868, 37876, 37873, 37690, 37960

  Quick Response Time

  We Work Year Round

  Customer Service Oriented

 Experience - Pressure Washing Since 2000

Is your House Dirty?  We can Help!

Routine Pressure Cleaning is what we do!

 Most homes start turning a little black and green through out the year. That mold and mildew growth mixed in with some dirt and cob webs can be an unsightly image! 

Don't worry it can be knocked out with our Soft Wash Pressure Washing method.

We have been pressure washing homes since 1998 and with our experience and equipment we can usually turn an all day or weekend job into a couple hour job. Most of our customers actually own there own power washer, but they still let us stop by once a year to tackle the big stuff. 

Call us, Email us, Send us a picture of your house. We will come out and give you a Free Estimate! 

What are your customers seeing when they pull up to your place of business?

 Are they welcomed by a Clean Store Front?

 We want to help you, Keep Up The Image of your business. They say First Impressions are everything! 

We can pressure wash anything from a small office building, to an upscale shopping mall. We can maintain your store front, sidewalk, and entryway to ensure your customers and potential customers see the best you have to offer!  

 We offer many commercial cleaning options, schedules, and discounts. Power Washing Kingsport, Johnson City & Bristol. 

​Please call now to set up your free estimate 423-600-9274.  

Why Use Wash TN Pressure Washing Service?

You're in the market for a pressure washing company, and you may not be certain on how to choose the right one.

You're looking for:

✓ A contractor with integrity to get the job done right

✓ Past experience so that you know the contractor knows what they're doing

✓ And someone who ultimately gives you the opportunity to make your life easier..

If this is what you're searching for, you've come to the right place!

  Concrete Pressure Cleaning

  Building Pressure Washing

  Dumpster Pad  Steam Cleaning

Our Pressure Washing services cover all of the Tri-Cities. Kingsport, Johnson City, and Bristol and the surrounding smaller towns and communities of Northeast TN and Southwest VA. 

Most business and home owners will notice when their walls are dirty, and maybe even the gutters. But the roof can easily be forgotten, and cleaning it can be more than most people want to handle. Fortunately, WASH TN Pressure Washing specializes in cleaning roofs, and we have more than 15 years of experience doing it! The secret to our roof cleaning process is low pressure and hot water. Many people think that pressure is their friend, but that's not always the case.

For roof cleaning, high pressure can actually damage the building and knock shingles right off. We have found that combining a low pressure system with hot water does the best job of cleaning roofs, and our many residential, commercial, and industrial clients all over the Kingsport, Johnson City, Bristol, and Knoxville TN area have come to rely on us for it.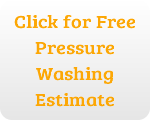 Pressure Washing Kingsport TN, Johnson City, Bristol & Surrounding